Our organization has noticed that within the last decade or maybe even longer, that the use of mechanical insulation has been partially reduced, greatly reduced, or been excluded in projects in the name of value engineering. Local 17 has witnessed self-performers (other crafts) and less-trained/untrained workers performing the work our organization has been doing in the area for over a century. Here is an example of some the work our organization has witnessed over the past two years, and how you have help changed the course of some of these jobs.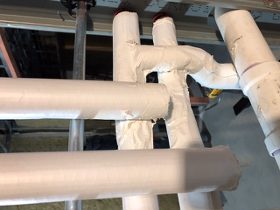 We have made a conscious effort to go out to the community to educate the stakeholders about the importance of our craft. Local 17 believes that building inspectors and code officials understand the importance of a properly insulated system. Local 17 has visited over 50 municipalities to date and provided information on the energy and cost savings yielded with a thorough and properly installed insulated mechanical system. With respect to the issue of safety, an improperly insulated grease duct can cause a fire, while a poorly insulated system could also lead to the development of mold, therefore, creating a 'sick building'. Such risks and liabilities are dramatically reduced with a high standard insulation system – Local 17 standard.
The Insulators at Local 17 aren't just trained in insulation, but also in proper asbestos removal. Prior to its outlaw, our members routinely installed the asbestos product. Sadly, Local 17 has lost many good people to asbestosis and mesothelioma due to repeated exposure. Today, our members are trained and licensed by the State of Illinois and Indiana to remove asbestos. The importance of proper asbestos removal can't be stressed enough. We continue to identify and address abatement issues and educate building officials regarding contractor mishandling.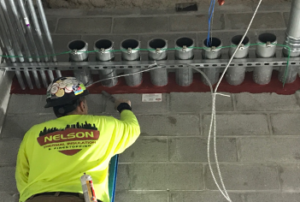 The last aspect of an insulator's job is firestopping. As you are aware, a building that is properly fire stopped will give building inhabitants a better chance to escape from a burning building as well as contain a fire to reduce damage. Our members are trained in all aspects of firestopping and asbestos identification/abatement.
The Insulators have had discussions with building inspectors at their offices and at seminars over the past year. Meetings with the key stakeholders have given us the opportunity to truly engage and inform both on the value of our craft and product as well as loss prevention measures.
Local 17 has received positive feedback on what matters to these officials. We look forward to learning from these people to create greener and safer buildings in the 21st Century for the customer and the community.
Comments are closed.