The COVID-19 epidemic has had a significant impact on society and its effects will be lasting. Local 17 continues to be of service to help our communities during these unprecedented times. When our first responders were faced with supply shortages, our organization and contractor partners stepped up to donate PPE through the Illinois AFL-CIO and Silver Cross Hospital. Members of the Will Grundy Building Trades held a free mask giveaway in an effort to provide the community with protection against the virus and its spread. In further support, Local 17 President, Jim McManus, and Apprentice Coordinator, Bob McGuckin teamed up with Elder Kevin Ford of the St. Paul Ministries of Chicago to organize a donation drive.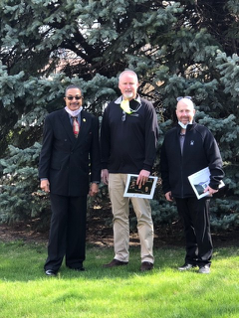 Local 17 membership has demonstrated yet again that our commitment to our communities is priority and our actions speak for themselves. Please consider supporting both your local blood drives and food pantries, if possible. Supply levels are critically low as a result of the pandemic and urgently need donations.
We encourage everyone to continue to take every safety precaution, on and off the job, as we continue efforts to overcome its implications.
Thank you to all of our membership and partners.
Comments are closed.